Stonebridge Crafted Homes End of Summer Soiree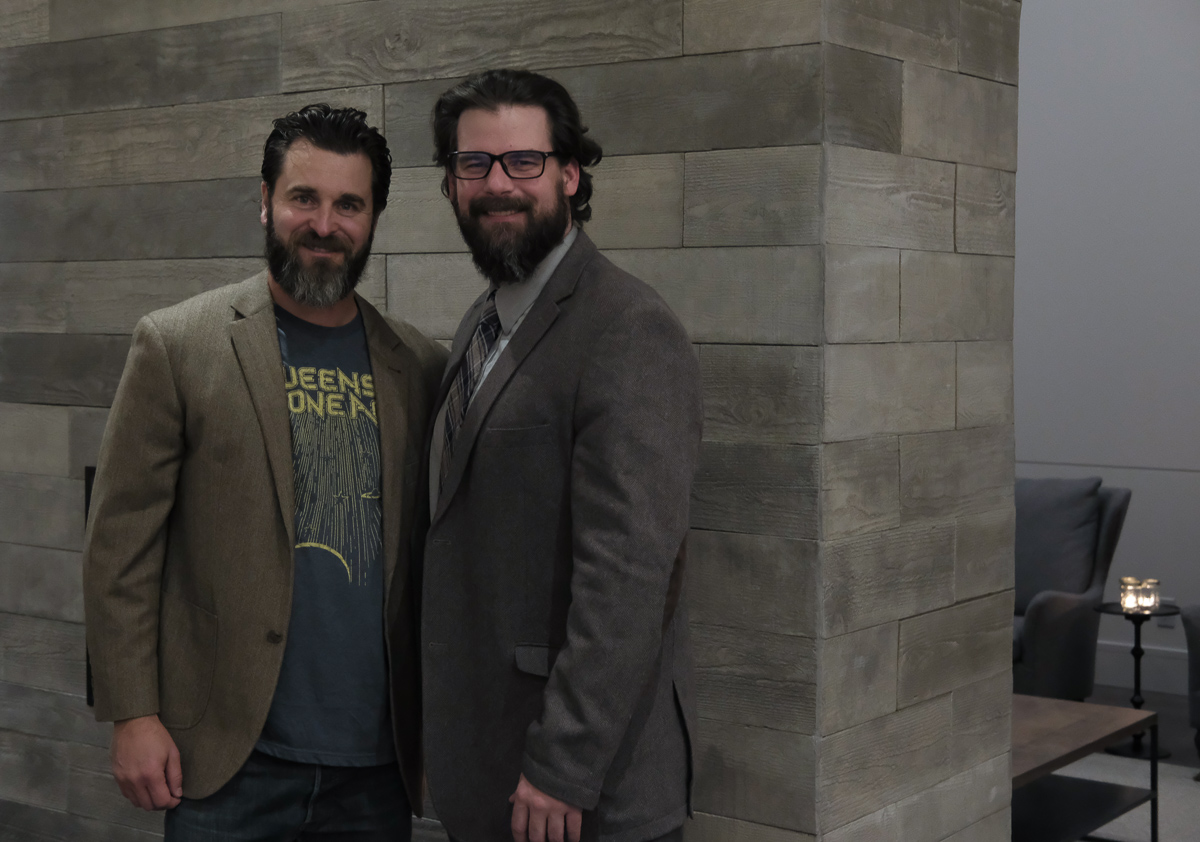 On Thursday, September 13, clients, media and friends of Mike MacLeod and Cael Tucker, co-founders of Stonebridge Crafted Homes, gathered for a client appreciation and website launch party. The party was hosted in one of their beautiful homes in Bel-Aire, Calgary that Stonebridge Crafted Homes completed a few years ago. During the event, guests enjoyed bites, bubbles and treats from different partners served in different parts of the house.
Upon entering, guests were greeted with a glass of champagne while the faint sound of a harpist played softly in the background. In the kitchen just past the front door, The Wednesday Room's off-site catering team were hard at work serving up delicious appetizers like beef tartar, salmon ceviche, oysters, shrimp and grits fritter and heirloom tomato and stracciatella.
After enjoying some of The Wednesday Room's food, guests then proceeded up to the loft. Upstairs in the loft for the ladies, Stacey Boruk from Bamboo Ballroom had a collection of new fall arrivals for party goers to browse through, try on and shop all while enjoying some cupcakes from Crave in Kensington and bubbles from Kensington Wine Market.
Downstairs at the scotch bar, the gentlemen enjoyed EllIpses, a new cocktail from The Wednesday Room's fall menu, branded for the night as the Stonebridge Crafted Cocktail. Thanks to Peasant Cheese in Kensington, guests could also enjoy some creamy cheese and crackers while they drank their cocktails. After their cocktail, guests sampled and chatted with Adam from Cheap Smokes about all things cigars.
Upon leaving, all party-goers were treated to a goodie bag full of products and gifts from Swizzlesticks SalonSpa.
Thank you to everyone who came to celebrate the launch of our website and to all our clients that we were able to show our appreciation for. Also, a huge thank you to all of our event partners, Kensington Wine Market, Crave Cupcakes, The Wednesday Room, Cheap Smokes, Peasant Cheese, Swizzlesticks SalonSpa, Bamboo Ballroom, RIB Photography, Calgary Harpist and PARKER PR for making this event a huge success.
Please enjoy this gallery of photos from the evening.